International Invitational Competition of IoT Held at NTVU
Date:2022-03-31 Editor:Olivia Views:
1
操作>>
On the afternoon of December 12, under the guidance of the Organizing Committee of China-ASEAN Education Exchange Week, the International Invitational Competition of Internet of things, jointly sponsored by our university and Malaysia International Cultural Exchange Center, was held online and offline at our public training base of digital technology (Nantong Huahui Zhigu Academy of Sciences), 202 players from 101 teams from 7 countries participated in the competition.
Eleven representatives from Jiangsu Institute of Maritime Technology and Regional Polytechnic Institute Techno Sen Battambang won the top prize after being evaluated by the technical committee; 20 teams from the University of Faisalabad and Jiangsu Institute of Information Technology won the first prize; 32 teams from Politeknik Ungku Omar of Malaysia and School of Applied Technology of Suzhou University won the second prize; Another 21 teams won the award. Our team performed well and won one top prize and two first prizes.
A grand opening ceremony was held before the game. The opening ceremony was presided over by Ms. Dai Shiming, vice president of our school. The opening ceremony was attended by President Chu Jinxing; Mr. Chen Wenyi, Deputy Director of the Secretariat Office of the Organizing Committee of China-Asean Educational Exchange Week, Former Consul-General of Malaysia consulate general in Kunming, China; Mr. Datuk Siu Chin Ping, chief Consultant of Malaysia International Cultural Exchange Center and related leaders; all the contestants, instructors, technicians from New Continent Science and Technology Group Co., LTD., principals from school of International Cooperative Education, School of Electronic Information Engineering and some teachers.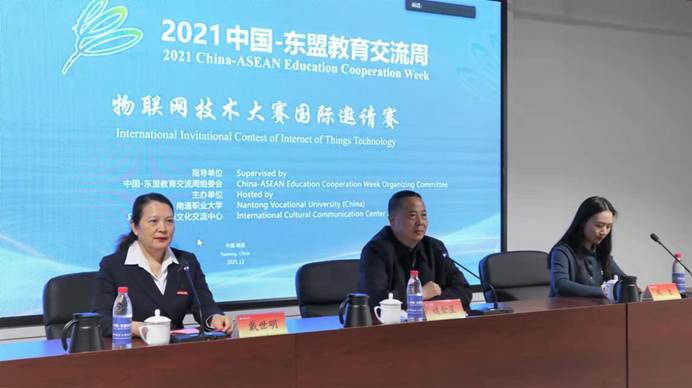 In his welcome speech to the opening ceremony, President Chu Jinxing points out that the international skills Competition aims to promote international exchanges in vocational education and improve the quality of schools participating in the competition. It is also a centralized review of the achievements of China's higher vocational education. In addition, it has set up a stage to show talents for the technical masters of the Internet of Things application technology major of the higher vocational colleges of the participating countries. He hopes to establish international cooperation between Chinese and foreign participating universities through this international competition, exchange educational teaching experience and explore a new model of vocational education development internationalization. We innovate cooperation mechanisms with universities in ASEAN countries to jointly cultivate highly skilled personnel.
Mr. Chen Wenyi, Deputy Director of the Secretariat office of the Organizing Committee, points out in his speech: in recent years, through the China-Asean Education Exchange Week, the education circles of China and ASEAN have focused on innovative development, connotation development, win-win development and multi-dimensional development, laying a more solid public support for the building of a China-Asean community with a shared future featuring common ideas, prosperity and responsibilities.The competition embodies the theme "Unity of Knowledge and Action -- Building an Education Vision for Sustainable Development Cooperation".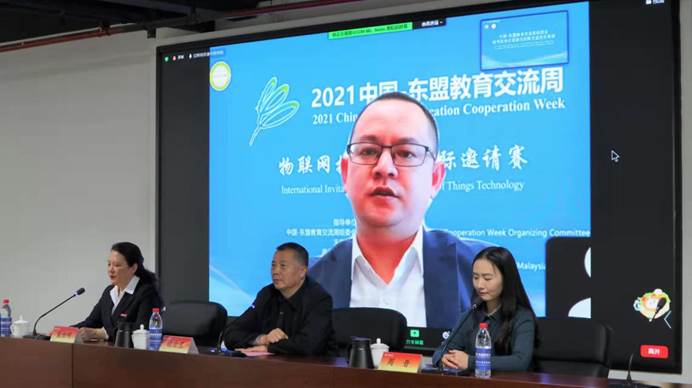 In his speech, Mr. Datuk Siu Chin Ping, general Adviser of Malaysia International Cultural Exchange Center, points out that the all-round cooperation between Malaysia International Cultural Exchange Center and Nantong Vocational University has better served the society and enterprises. He wants to work with more Chinese colleges and universities to cultivate local talents who understand Chinese,  are familiar with Chinese culture, and master Chinese technologies. At the same time, cultivate a group of Chinse international talents who understand the local language and local culture, providing strong support and guarantee for Chinese enterprises going global and the internationalization of China's development needs.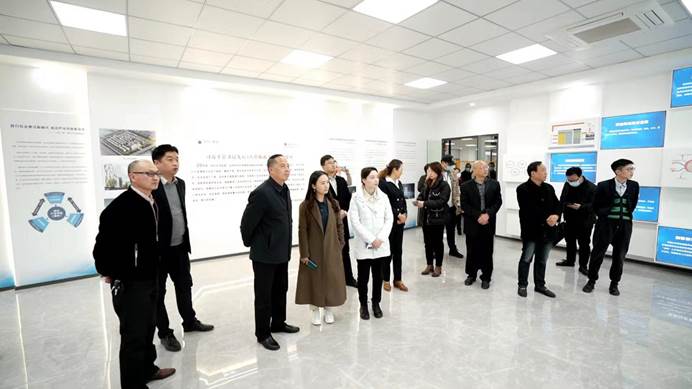 At the closing ceremony, four students from the University of Semarang in Indonesia, Usama Mohammed from the University of Faisalabad in Pakistan, Jiang Hua from Jiangsu Information Vocational and Technical College, and Qin Haonan from the School of Electronic Information Engineering of our school exchanged their experience in the competition. They said: The project content of this competition is comprehensive, covering all walks of life and various fields. No matter in terms of creativity or technical completion, it has reached a high level, fully demonstrating the learning ability and equipment construction ability of our contemporary college students. Through this competition, they not only strengthened their practical application ability in the field of Internet of Things, but also improved the communication and collaboration abilities.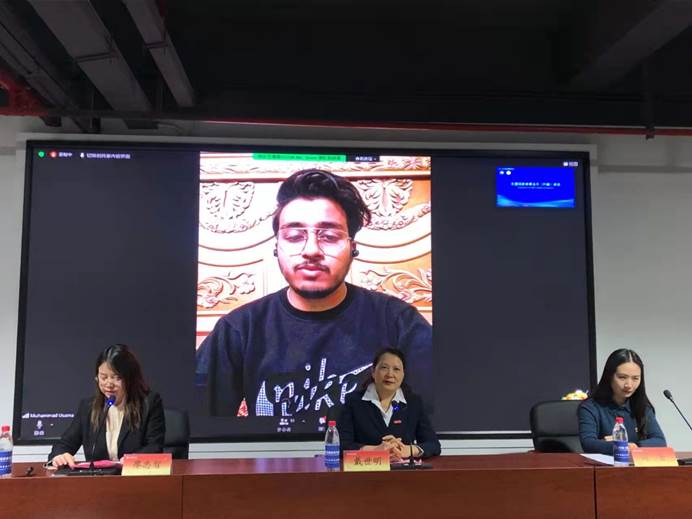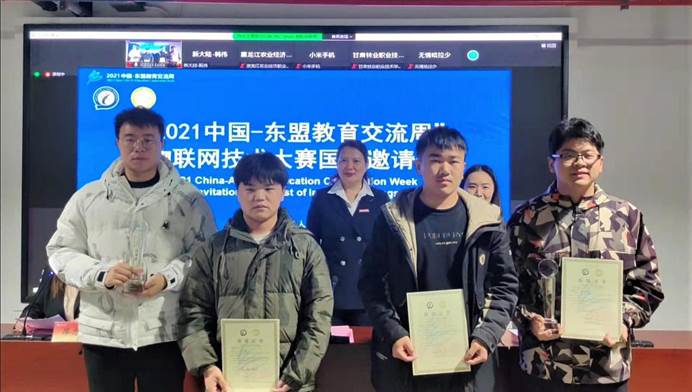 Ms. Zhou Jin, general manager of Malaysia International Cultural Exchange Center in China, announced the list of winners of the competition, and awarded trophies and certificates to the offline winners.
Vice President Ms. Dai Shiming points out at the closing ceremony: this international competition has really achieved the purpose of "promoting training, practicing and learning through competition", cultivating the players' serious and meticulous work style and team consciousness of solidarity and cooperation, and enhancing the friendship between participating schools internationally. She expresses that IOT is an emerging profession and some ASEAN countries have not yet set up the profession. She hopes that through this competition, practical and effective cooperation could be established between Southeast Asian institutions and Chinese institutions to promote Chinese institutions to actively participate in the setting and teaching level improvement of IOT profession in Southeast Asia, so as to promote China ASEAN to jointly improve the teaching level and cultivate high-quality IOT professionals.
The successful holding of the competition, on the one hand, greatly promoted the exchange and cooperation between our university, domestic universities and ASEAN countries; on the other hand, it also fully reflected our university's education and teaching reform, further demonstrated the level and strength of our university, and enhanced our influence, popularity and reputation.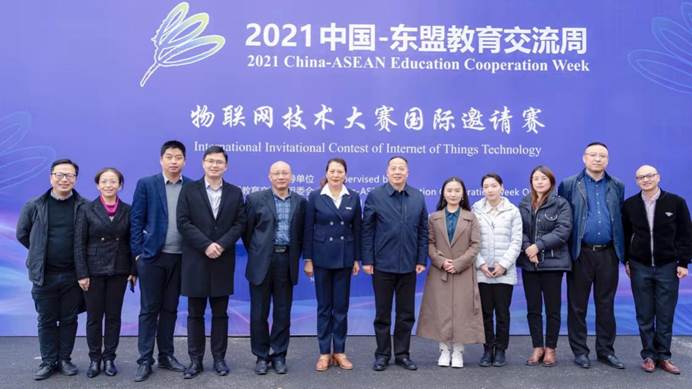 (Text: Pang Demei, Picture: School of International Cooperation and Education, School of Electronic Information Engineering)